WHO group 4 pulmonary hypertension is PH related to chronic blood clots in the arteries of the lungs.  Chronic thromboembolic pulmonary hypertension (CTEPH) is very unique.  About half of patients with chronic blood clots in their lungs will never have had a specific episode of clotting that they recall.  It is important to rule out CTEPH on every PAH patient as it is a potentially curable disease.
Tests used to diagnose CTEPH: Chronic Thromboembolic Pulmonary Hypertension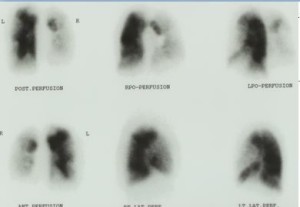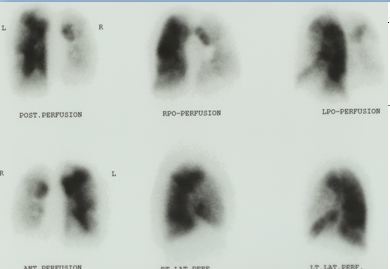 Perfusion scan from a patient with severe chronic thromboembolic pulmonary hypertension. The right lung has nearly no blood flow. The left lung has multiple wedge shaped blood flow defects.[/caption]
The best non-invasive test used to look for CTEPH is a V/Q scan,  a special nuclear medicine test that looks at blood flow through the lungs. A mismatch of airflow to blood flow (normal airflow and decreased blood flow) is highly indicative of blood clots in the lungs.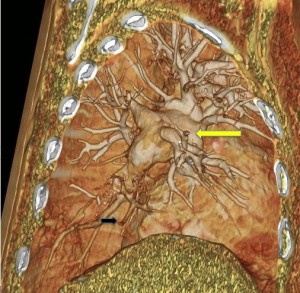 The gold standard test used to diagnose CTEPH is a pulmonary angiogram.  During this test a special dye is injected into the pulmonary arteries while taking xrays to see how and where the blood flows through the arteries of the lungs.  This test is often done at the time of right heart catheterization.
CT Scans alone are not accurate in diagnosing or excluding CTEPH.
Medications used to treat CTEPH
Adempas was recently approved by the FDA and is currently the only drug on the market with an indication for PAH and chronic thromboembolic pulmonary arterial hypertension. However, many patients will be treated aggressively with traditional PAH medications while they are being evaluated for pulmonary thromboendarterectomy or PTE surgery.  In addition all patients with CTEPH need to be treated with blood thinners for the remainder of their life to prevent new blood clots from forming.
PTE surgery to cure CTEPH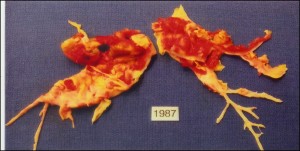 CTEPH  is the only potentially curable form of pulmonary hypertension. The cure is in a the form of a surgery called pulmonary thromboendarterectomy or PTE.  PTE is a complicated surgery that involves opening a patient's chest, placing them on a heart-lung bypass machine, and removing the blood clots from the arteries of the lungs. Patients with chronic thromboembolic pulmonary hypertension should be evaluated at a center specializing in PTE and CTEPH with many years of experience performing the surgery.  Patients will be required to travel to the surgical institution for evaluation and if approved return for the actual surgery.  Most centers require that patients stay near their surgical center for several weeks postoperatively.  Many patients are cured by the surgery while others are improved but continue to need treatment for pulmonary hypertension.
Not all patients with CTEPH are candidates for PTE surgery. Patients may have other medical conditions that make them high risk for PTE or have inoperable CTEPH caused by smaller blood clots in smaller arteries in the lungs that cannot be accessed by PTE.