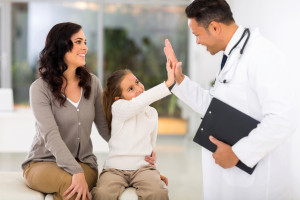 Pulmonary arterial hypertension can affect children of any age. The causes of childhood PAH are similar to adult PAH with a few exceptions.  The most common causes of pediatric PAH are idiopathic, heritable (genetic/familial), and caused by congenital heart disease. There is a rare type of pediatric PAH called persistent pulmonary hypertension of the newborn (PPHN) that is always diagnosed shortly after birth. Great progress has been made in treating PPHN with inhaled nitric oxide and sildenafil. There are many other causes of the more general diagnosis pulmonary hypertension in childhood such as lung disease of prematurity (bronchopulmonary dysplasia) and congenital diaphragmatic hernias. These pulmonary hypertension conditions are managed differently from PAH.  Some of the common adult causes of PAH such as connective tissue disease are much less common in children.
Symptoms of Pediatric PAH
Because the symptoms of pulmonary arterial hypertension are often insidious in onset and very nonspecific, patients often come to medical attention late in the disease process. In retrospect parents often can see changes taking place over many months such as decreased energy, avoidance of strenuous activity or even lips turning blue. Children may complain of feeling tired or chest symptoms. Growth may slow and eventually swelling of the legs and abdomen may develop.
Diagnosing Pediatric Pulmonary Arterial Hypertension
The key to making a diagnosis of pediatric PAH is considering the possibility. The physical exam is usually abnormal. Heart sounds often change. Basic testing with a chest xray, EKG and an echocardiogram (echo) almost always point in the correct direction. It is key to have an echocardiogram performed and interpreted by a team expert in pediatric cardiology. Once the echo has suggested PAH or congenital heart disease, the child should be referred to a specialty center expert in PAH and congenital heart disease. This may require traveling out of town. It is well worth the time and expense to be evaluated by a center of excellence. After review of all of the non-invasive data (xrays, blood tests, echocardiograms), a heart catheterization is required to make a formal diagnosis of PAH.
Treatment of Pediatric PAH
After a formal diagnosis of pulmonary arterial hypertension has been made by heart catheterization, medications are started. Unfortunately, there are far fewer good quality research studies guiding the optimal selection of medications in children compared to adults. Nonetheless, there are now 13 different treatments from which to choose.
Oral Therpaies Used to Treat Pediatric PAH
Children that have milder disease are generally started on an oral therapy with either an endothelin receptor antagonist (ERA) or a PDE5 inhibitor. In 2014 results of a large study with sildenafil was published. The results showed that low, medium and high doses resulted in improved outcomes compared to historical experience. However, the higher dose group did worse than the lower dose group. This led to reviews by the FDA and the European regulatory agency. The European drug safety review felt that in children low dose sildenafil was safe and effective. However, the FDA issued a warning about using sildenafil in children. Experts from around the country disagreed strenuously about the FDA position. Most experts still use sildenafil for pediatric PAH but restrict the dosing to lower levels. I believe that the data support the safety and efficacy of low dose sildenafil in pediatric PAH.
PDE 5 Inhibitor Versus ERA or the Combination as First Line Therapy?
There are no pediatric studies addressing which class of therapy should be initiated first or if a combination of both a PDE5 and an ERA should be initiated together. Borrowing from the adult literature, the AMBITION study showed impressive results combining both types of medications. There is a growing trend in the pediatric PAH community to use both an ERA and a PDE 5 inhibitor together.
Prostanoid Therapies Used to Treat Pediatric PAH
For children that are more severely ill (a higher functional class), we recommend continuous prostanoid infusion in addition to oral therapies. Intravenous and subcutaneous treprostinil (Remodulin) and intravenous epoprostenol (Flolan) are options. Historically, the subcutaneous route was avoided in pediatrics, however, more recent experience has provided reassurance that even young children do well with subcutaneous treprostinil. Interestingly, children seem to have much less site pain with subcutaneous therapy than adults.
Inhaled prostanoid therapy is an option for older children. However, four times daily dosing and only moderate efficacy make this a less preferable option. The newly approved oral treprostinil (Orenitram) has attracted attention from patients and providers. However, there is no data showing safety or efficacy in children and the results in adults that are started de novo (without prior exposure to intravenous or subcutaneous prostanoids) are very underwhelming. Hopefully over the next few years we will see results from pediatric studies of this medication.
Coping with PAH
Children affected by pulmonary arterial hypertension often feel isolated and depression is common. Be proactive in connecting your child with other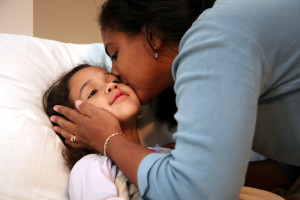 children with PAH. There are support groups for children with pulmonary hypertension and on-line chat rooms. If possible participate in one of the conferences held by the Pulmonary Hypertension Association that bring children together from around the world. We also encourage the parents of children with PAH to join support groups. In my experience adolescence is the most challenging time for parents of patients with PAH. Children may struggle with independence and bristle at taking their medications.  Seek the support and guidance of your physician and allow your older child to have some time alone with their treating team. They may have questions that they are embarrassed to ask in your presence.
Advances in PAH treatment have dramatically improved the prognosis of patients with this disease. Children with PAH should lead as normal lives as possible with reasonable accommodation. They should be educated in their disease process and their medications. Knowledge is power.