An important cause of PAH is liver disease. Up to 5% of patients with cirrhosis (scarring in the liver) or portal hypertension (high pressure in the blood vessels of the liver) can develop PAH. All causes of cirrhosis and portal hypertension can develop PAH.
Causes
The most common causes of cirrhosis (scarring of the liver that leads to liver failure) are hepatitis (Hepatitis C in the United States and Hepatitis B in other countries), chronic alcohol abuse and non-alcoholic steatohepatitis (also called fatty liver). There are many other causes of chronic liver disease including parasitic infections, autoimmune liver disease and rare disorders of metabolism. Chronic liver disease is often silent until the disease is very advanced. Most patients have no symptoms until they develop abdominal swelling, leg swelling, abnormal blood tests or jaundice (yellowing of their skin and eyes).
Liver Transplant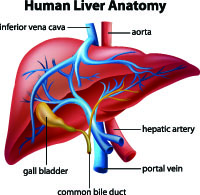 In advanced cirrhosis, liver transplant may be an option but a careful evaluation is required and all patients are evaluated to see if they have PAH. When present, severe PAH may be a barrier to liver transplantation. When PAH develops in the context of cirrhosis or portal hypertension, the syndrome is called porto-pulmonary syndrome. It is important to distinguish which came first. Long standing PAH can lead to cirrhosis through chronic congestion of the liver. This is not the same as porto-pulmonary syndrome.
PAH Comes in 2 Types
The PAH of porto-pulmonary syndrome comes in two flavors. The most common finding is very high blood flow and is associated with mild to moderately elevated pulmonary artery pressure and low pulmonary vascular resistance. This is generally not a barrier to liver transplant as the high blood flows improve after transplantation and the pulmonary pressure normalizes.
A more worrisome finding is low blood flows and very high pulmonary artery pressure and resistance. Under these circumstances, liver transplantation may not be an option until the PAH is improved with aggressive therapy. In previous decades, many liver transplantation programs used a mean (average) pulmonary artery pressure of 35 or more as a contraindication to liver transplantation. Although some centers still use this number in isolation, other centers take into consideration the blood flow and pulmonary vascular resistance.
Porto-pulmonary syndrome with high pressures and low blood flows can respond to treatment with the usual PAH medications. Selecting an optimal regimen depends on the goals of the patient. If the goal is liver transplantation, then a regimen of two or three medications is often used. If transplantation is not a goal then the treatments may be less aggressive and titrated to how the patient feels.
Patients with porto-pulmonary syndrome often have significant fatigue that is driven by their liver failure. Long term prognosis is guarded in many patients with this disease and is often heavily influenced by their liver disease. Careful communication between your liver and pulmonary hypertension specialists is critically important.