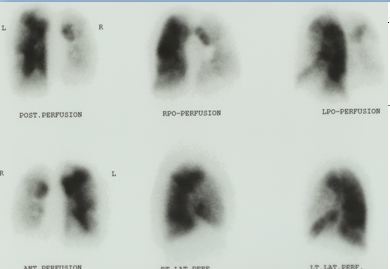 Ventilation Perfusion Lung Scans
Ventilation perfusion lung scans or VQ scans are an important test to evaluate for the possibility of chronic blood clots in your lungs.  This test is generally not performed at local imaging centers (though in some larger towns they may be).
Typically, this test is performed at regional hospitals.  Over the past 20 years, this test is not used as much to evaluate for acute blood clots in the lungs (pulmonary emboli).  However, larger hospitals should be able to perform this test. On the instructions/prescription for the test, the hospital or imaging center should be informed that chronic thromboembolic disease is being considered.
For more details about VQ scans click here.
Can PAH Be Cured?
In adults we generally don't think of PAH as a curable disease.  However, there are some exceptions.  For example, some patients that are living at very high elevation and then move to lower elevation may have mild PAH at higher elevation and their numbers normalize at lower elevation.
Another example is if a patient has a severe pneumonia or other temporary lung problem and they are evaluated for "PAH" during that illness, the numbers may look very much like mild PAH.  Once the pneumonia or other temporary lung problem resolves then their numbers may return to normal.  Patients that are using methamphetamines can have dramatic improvement and occasionally normalization of their pulmonary artery pressures when they stop using methamphetamines.
Some patients with quite severe PAH can have their pressures return to normal while they are being treated with PAH medications.  This does not mean that they are cured of PAH.  Although it may be tempting for the patient to want to stop their medications, my practice is not to stop medications under those circumstances but to celebrate the progress.  If a patient has had a truly dramatic response to multi-agent therapy and wants to try and switch from pump therapy to an all pill regimen, I am open to this under certain circumstances.
Children with PAH who are treated with medications may also show dramatic improvement.  At times this may lead their doctors to slowly wean them off PAH medications.  These patients need to be watched very carefully for decades as their PAH may worsen and they may require restarting their PAH medications.