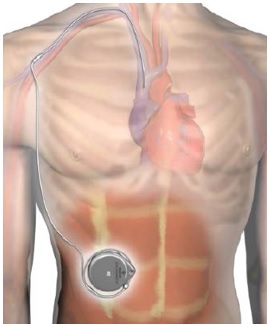 Although the progress of the implanted pump system for Remodulin has been a little like watching paint dry on the wall, we are inching closer to having this new system available for patients.  The clinical trial is now well into its eighth year.  The FDA has approved the pump and the catheter system.  United Therapeutics and Medtronic (the two companies that make the medication and device) continue to work with the FDA and Medicare to iron out the out the last few wrinkles.
Where Will the Pumps be Available?
Once the pumps and catheters are officially released for commercial use, they will be available initially only at sites that participated in the research study.  That means that there will be 10 PH programs across the country that will be able to start implantations.  But don't get too excited yet.  Each hospital will have to create an entirely new process for acquiring the pumps and figuring out if the surgery and recovery is a viable business for them.  What the process will pay each hospital is a key variable that is being sorted out.
Refilling the Pump
Another hurdle for the 10 study sites is where will refills take place.  Every 4-12 weeks each pump needs to be refilled with new Remodulin. Unlike the current system where the specialty pharmacies (Accredo and CVS-Caremark) ship Remodulin directly to the patient, a different system will be required.  Most sites will probably have an outpatient location in their hospital system where patients will go and the pump will be refilled by a physician or nurse practitioner who has specific training in the process.
When Will Implantation Procedures Begin?
We are hopeful that in the next month or two we will start performing the implantation procedures. It has been a long journey.  We are excited to be able to offer this therapy to patients who are currently receiving continuously infused Remodulin (either intravenous or subcutaneous).  We are also pleased to have learned that the supply of pumps will not be restricted.
Stay tuned for further updates…