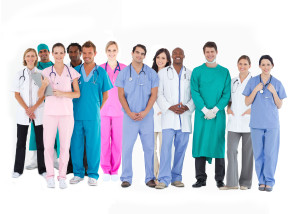 One of the great challenges in medicine in general and Pulmonary Arterial Hypertension in particular is finding a doctor and treatment team that will provide you with the best care.  This is particularly important as treatment choices for PAH medications have become plentiful and more doctors are comfortable with some of the oral medications.  Defining quality medical care is also complicated.  Everyone wants to believe that their doctor is great.  And all doctors want to believe that they are great at what they do.  However, with 15 treatment options and numerous clinical trials ongoing, staying abreast of the latest development is more than the average physician is capable of doing.
Comprehensive Care Centers for Pulmonary Hypertension
In response to growing concern that many patients are receiving care from physicians that are not truly expert in PAH, the Pulmonary Hypertension Association set out to develop a certification system to recognized different levels of expertise in treating physicians.  This is designed to help patients receive the best care.
Two levels of certification have been developed.  The highest level of care is Comprehensive Care Center (CCC).  When we first wrote about CCCs in February of 2015 there were 11 accredited centers. There are currently 32 CCCs across the country with more to come.  These programs have a physician leader that is expert in all available treatments, a nurse coordinator who is knowledgeable in helping patients navigate their way through PAH hurdles.  All CCCs are required to participate in research and in educational activities.  These 32 programs have well-developed collaboration with surgeons, anesthesiologists, rheumatologists and other specialists to provide care for PAH patients under any circumstance.  They can provide expert care to patients in the office and hospital.  They are also affiliated or have relationships with lung transplantation programs.
Regional Care Centers for Pulmonary Hypertension
Recognizing that not every patient will have access to a Comprehensive Care Center, a second designation was developed called a Regional Care Center (RCC).  These programs have less expertise than Comprehensive Care Centers but still are able to begin the diagnostic process and initiate treatment for PAH patients.  They are required to collaborate with a CCC.  In general RCCs will be prescribing oral therapies and will send sicker patients to CCC for further evaluation and treatment.
We have included an updated list of Comprehensive Care Centers below.  The Pulmonary Hypertension Association will start recognizing Regional Care Centers soon.  Stay tuned for an update about Regional Care Centers.
---
Arizona
Arizona Pulmonary Specialists, LTD
3330 North 2nd Street, #300
Phoenix, AZ 85012
Director: Jeremy Feldman, MD
Appointments: (602) 443-0184
---
California
Cottage Health System
Cottage Pulmonary Hypertension Center
2403 Castillo Street, Suite 206
Santa Barbara, CA 93105
Director: Jeffrey S. Sager, MD
Appointments: (805) 898-8840
Stanford University
Stanford Adult Pulmonary Hypertension Clinic
Chest Clinic 300 Pasteur Drive, A13, Ambulatory Care Clinic 2
M/C 5351
Stanford, CA 94305-5351
Director: Roham T. Zamanian, MD
Appointments: (650) 723-1474
University of California, at San Francisco Medical Center
University of California, San Francisco (UCSF) Pulmonary Hypertension Program
400 Parnassus Avenue
Level B-1, APL 094
San Francisco, CA 94143-0124
Director: Teresa De Marco, MD
Appointments: (415) 353-9088
---
Colorado
University of Colorado Denver | Anschutz Medical Campus
Pulmonary Hypertension Program
12605 E. 16th Ave, Room 3.2203
Aurora, CO 80045
Director: David Badesch, MD & Todd Bull, MD
Appointments: (720) 848-6518
---
Connecticut
Yale University School of Medicine
Yale Pulmonary Vascular Disease Program
333 Cedar Street
New Haven, CT 06520
Director: Terence K. Trow, MD
Appointments: (203) 785-4196
---
Florida
Mayo Clinic Florida
Pulmonary Hypertension Clinical Program
4500 San Pablo Road S
Jacksonville, FL 32224
Director: Charles D. Burger, MD
Appointments (Patient Line): (904) 953-2272
Appointments (Physician Line): (904) 953-0321
Orlando Health Heart Institute
Pulmonary Vascular Disease Program
1222 South Orange Avenue
Orlando, FL 32806
Director: James H. Tarver, MD
Appointments: (407) 650-1347
---
Iowa
University of Iowa
Heart and Vascular Center – Pulmonary Hypertension Program

200 Hawkins Drive
Iowa City, IA 52242
Director: Linda Cadaret, MD
Appointments: (319) 356-7102
---
Kansas
The University of Kansas Hospital
University of Kansas Pulmonary Hypertension Program
3901 Rainbow Blvd
MS 3007
Kansas City, KS 66160
Director: Timothy Williamson, MD
Appointments: (913) 588-4098
---
Kentucky
Kentuckiana Pulmonary Associates
100 West Market Street
Suite 2
Louisville, KY 40202
Director: John Wesley McConnell, MD
Appointments: (502) 587-8000
---
Louisiana
University Medical Center New Orleans
Comprehensive Pulmonary Hypertension Center
2025 Gravier Street, Suite 615
New Orleans, LA 70112
Directors: Matthew Lammi, MD & Shigeki Saito, MD
Appointments: (504) 903-2387
---
Maryland
Johns Hopkins University
Johns Hopkins Pulmonary Hypertension Program
601 North Caroline Street
7th Floor, Suite C
Baltimore, MD 21287
Director: Paul Hassoun, MD
Appointments: (410) 614-6311
---
Massachusetts
Brigham and Women's Hospital
Pulmonary Vascular Disease Program | Center for Pulmonary Heart Disease
Watkins Clinic – Carl J. and Ruth Shapiro Cardiovascular Center
70 Francis Street
Boston, MA 02115
Director: Aaron Waxman, MD, PhD
Appointments: (857) 307-4000
---
Michigan
University of Michigan
1500 East Medical Center Drive
Ann Arbor, MI 48109-5853
Director: Vallerie V. McLaughlin, MD
Appointments: (888) 287-1082
---
Minnesota
Mayo Clinic
200 1st Street SW
Rochester, MN 55905
Director: Robert P. Frantz, MD
Appointments: (502) 587-8000
---
Missouri
Washington University at Barnes-Jewish Hospital
4921 Parkview Place
Suite B
St. Louis, MO 63110
Director: Murali M. Chakinala, MD
Appointments: (314) 454-8917
---
New York
Columbia University-New York Presbyterian Hospital
3959 Broadway
CH-2N, Division of Pediatric Cardiology
New York, NY 10032
Director: Erika Berman Rosenzweig, MD
Appointments: (212) 305-4436
Weill Cornell Medical Center-New York Presbyterian Hospital
520 East 70th Street
New York, NY 10021
Director: Evelyn Horn, MD
Appointments: (212) 746-2381
---
North Carolina
University of North Carolina at Chapel Hill
University of North Carolina Pulmonary Hypertension Program
102 Mason Farm Road, CB 7020
Chapel Hill, NC 27599
Director: H. James Ford, MD
Appointments: (984) 974-5775
---
Ohio
University of Cincinnati
University of Cincinnati Medical Center Pulmonary Hypertension Program
UC Health Physicians Office (Clifton)
222 Piedmont Avenue
Suite 4300
Cincinnati, OH 45219
Director: Jean Elwing, MD
Appointments: (513) 475-8523
---
Pennsylvania
Allegheny Health Network
Allegheny General Hospital
320 East North Avenue
Pittsburgh, Pa. 15212
Director: Raymond L. Benza, MD
Appointments: (412) 359-6739
University of Pennsylvania
Perelman Center for Advanced Medicine at the Hospital of the University of Pennsylvania
3400 Civic Center Boulevard
Philadelphia, PA 19104
Penn Presbyterian Medical Center
51 North 39th Street
Philadelphia, PA 19104
Director: Steven M. Kawut, MD, MS
Appointments: 800-789-PENN (7366)
---
Rhode Island
Rhode Island Hospital – Brown University
Rhode Island Hospital Pulmonary Hypertension Center
593 Eddy Street
Providence, RI 02903
Director: James Klinger, MD
Appointments: (401) 444-3570
---
Tennessee
Vanderbilt Medical Center
Vanderbilt Pulmonary Vascular Center
1301 Medical Center Drive
Nashville, TN 37212
Director: Ivan Robbins, MD
Appointments: (615) 322-5879
---
Texas
University of Texas Southwestern Medical Center
UT Southwestern Pulmonary Hypertension Program
5939 Harry Hines Blvd, Ste 600
Dallas, TX 75390
Director: Kelly M. Chin, MD, MSCS
Appointments (New Patients): (214) 645-8300
Appointments (Established Patients): (214) 645-5505
---
Virginia
Inova Fairfax Hospital
Inova Advanced Lung Disease Management Program
3300 Gallows Road
Falls Church, VA 20042
Directors: Steven D. Nathan, MD & Oksana A. Shlobin, MD
Appointments (New Patients): (703) 776-6168
Appointments (Established Patients): (703) 776-2986
Virginia Commonwealth University
411 East Marshall Street
Richmond, VA 23298
Director: Dan Grinnan, MD
Appointments: (804) 828-2161
---
Wisconsin
Froedtert Hospital and Medical College of Wisconsin
Froedtert Hospital and Medical College of Wisconsin Pulmonary Hypertension Service
9200 West Wisconsin
Suite E5200
Milwaukee, WI 53226
Director: Kenneth Presberg, MD
Appointments: (414) 805-6633