This is a new series on low sodium recipes and tips by Chef Benny. Whether you have Pulmonary Hypertension, Pulmonary Fibrosis or another need for a low sodium diet, we hope these recipes will help make things a little more interesting! For more information about Chef Benny, see his bio at the end of this post.
Salmon Cakes

One of my first jobs after high school was working on a commercial boat fishing for Sockeye Salmon in Alaska. That experience was amazing for so many reasons, but my big take away was how to cook salmon. The Natives would cook it very simply with just a few ingredients to maintain the integrity of the fish. Their respect for the earth's bounty was wonderful to witness. The simpler the presentation, the better it tastes. After becoming a chef and working for 15 years in restaurants and hotels, I have honed my skills and found a few short cuts along the way.
I start with all organic vegetables and ingredients. This recipe features healthy fats like avocado, salmon, and extra virgin olive oil. It is important to dress your salad lightly with the dressing so the delicate arugula does not wilt on the plate. I use Sockeye salmon because it has a higher level of omega 3 fatty acids than farmed, the flavor can be a little stronger though.
When you master this technique of smashing the mixture into the pan you can use it for other types of meats like ground turkey. It is a great way to hide a few veggies from the little ones too. The key is to pay attention to the details and go for it.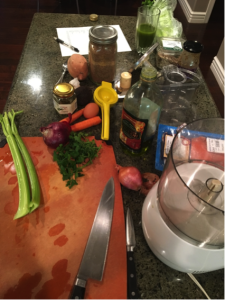 Equipment: food processor with blade and grating attachment, whisk, small bowl, large bowl, lemon juicer, peeler, chef's knife, cast iron skillet, cooling rack, cutting board.
Serves: 4 People
Lemon Vinaigrette:
¼ cup                 Extra Virgin Olive Oil
½ each               lemon, juiced
1 Tablespoon      whole grain mustard
½ each               shallot
Salad:
1 Tablespoon      sunflower seeds
1 small bag         arugula
1 each                 avocado, sliced
Method:
Dice shallot and cover with lemon juice, add Extra Virgin Olive Oil, slice avocados, whole grain mustard, and the sunflower seeds, mix gently with a spoon.  Toss arugula with the vinaigrette and serve with salmon cakes.
Salmon Cakes:
1 pound              salmon
2 each                carrots, peeled
½                        red onion, peeled and quartered
2 pieces              celery
1 egg
2 Tablespoons    flax seed
2 Tablespoons    ground almonds
1 Tablespoon      capers
10 sprigs             parsley stem and all
Extra Virgin Olive Oil for cooking
Method:
Start with beautiful organic vegetables, peel the carrots and onions, quarter the onion so it will fit in the food processor.
Using the top pusher attachment and grater, grate parsley, carrot, celery, and onion.
Pour ingredients into a bowl and switch to the blade attachment. Pulse vegetables 3 times to get the mixture to even out, sometimes there are big chunks, take those out.
Pour back into large bowl, add ground flax, ground almonds, capers, and an egg, set aside.
For the salmon, skin it and cut into 1 inch pieces, make a small cut about ½ inch into the small portion of the fillet and hold on to it with your index finger, change your knife angle so it is down slightly and scrape the skin off the fillet, move the skin to side leaving the fillet gently on top of the knife.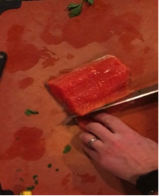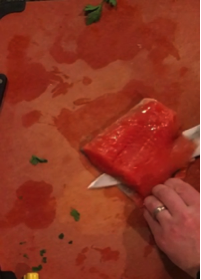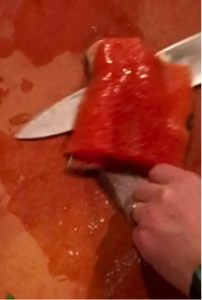 6. Add it to the food processor fitted with the blade attachment, pulse 5 times just till it is broken up, and an even size, DO NOT TURN ON MACHINE or it will become gummy. Add salmon to the vegetables and mix all together.
7. Using an ice cream scoop, scoop up the mixture and push it into a patty right into a hot cast iron pan drizzled with olive oil.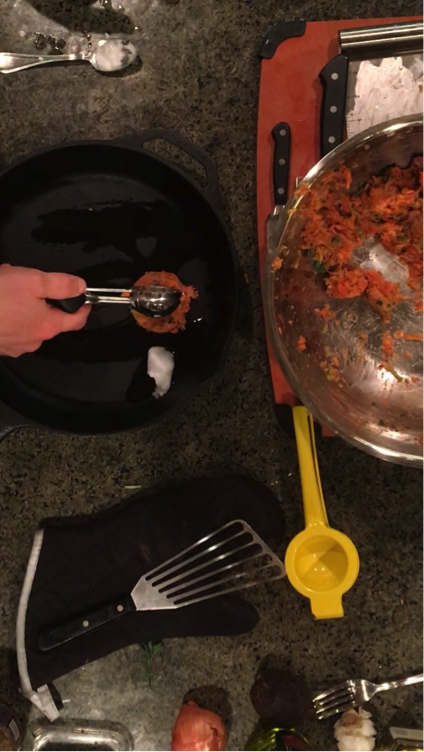 8. The pan should not be splattering hot, just medium heat is fine. Smash the cake down so it has good contact with bottom and let it cook on that side for 4 minutes. Flip to finish cooking on the other side about 1 or 2 minutes. Gently remove and cool on a rack.
About Chef Benny
I have been a food enthusiast my whole life.  I love learning and discovering new things about health and cooking.  My path led me to cooking school at The Culinary Institute of America and working as a chef for 15 years.  I have done everything from washing dishes, working on a CSA Garden, working in a small 40 seat restaurant, to running large hotel kitchens.  One of my favorite jobs was working as a personal chef on an 80 foot yacht for a summer.
I specialize in paleo recipes focusing on decreasing inflammation and becoming more resilient in life.  I push the boundaries learning about bio-hacking, meditation, and nutrition.  I feature the farmers markets and seasonal produce in all of my recipes.  Adding a few fresh herbs and a few drops of freshly squeezed lemon juice will really enhance a lot of dishes.  I recommend using a cast Iron pan whenever possible. You will also need a large cutting board, a good chef's knife, and patience with yourself. Trying something new is challenging.  A recipe should be read and adjusted to your liking. All amounts can be adjusted, this should be fun – add a dash of this and a little bit of that.
I have three young boys and an amazing wife.  We enjoy spending time outdoors, going to the beach, and gardening.  Hope you enjoy the recipes.
Visit Chef Benny's Blog "Ben There Cooked That"